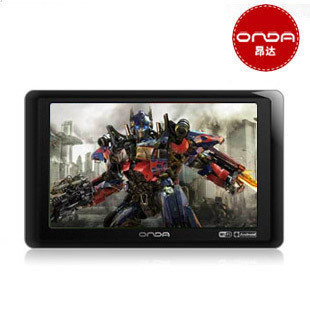 Introduction
  Onda VX580W continuation of the VX series design, configuration of 5 inch 16000000 color color high-definition display ( 16:9800 ×480 dot matrix ). A new generation of touch screen, FLASH sliding UI design, Widget controls and G-sensor gravity sensor chip using, also brought more intuitive, more humane operation experience. Through the Wifi, 3G, cable and other networking mode, can also run war within three kingdoms, QQ games a popular online game, let you with all game player online sharing the fun of the game. Thanks to VX580W 5 inch touch screen and a powerful A10 chip support, many Android games can be run smoothly. Onda VX580W enhanced version for resistive touch screen.
  Onda VX580W enhanced version
  Onda VX580W enhanced version
  Onda VX580W using Android2.2 system, virtual TF card function, in the software can only read TF file, only need to put the document in the automatic generation of the "external_sd" folder. Onda VX580W built-in WIFI ( 802.11b/g/n ) wireless network function, compared with other external Wi-Fi module of similar products in the received signal, portability, more advantages. The user can through the WIFI free webpage browsing, online video, QQ, Fetion, micro-blog and various network applications; also available through electronic market wireless download massive free software, access to a variety of popular games, tools, office software. At the same time, Onda VX580W also supports external 3G module and cable broadband connection ( the need for an external device ).
More Products